William J. Mansfield, Inc. has proudly served the Delaware Valley Legal Community since 1935. Since our inception, WJM, Inc. has been a private, family owned and operated business with over 60 years and four generations of legal advertising.
Throughout our many years of service to the legal community, we have developed strong relationships with numerous legal and general circulation publications in all 50 US States. With these strong relationships, we have been able to provide quality nationwide legal advertising to Attorneys, Law Firms, Accountants and Corporate Service Agencies for over six decades.
Even though our agency serves clients from coast to coast, we still provide a quality, professional legal advertising service to each and everyone of our customers. We look forward to continuing our service to the legal community well into the 21st Century…
MARK MANSFIELD
Mark Mansfield – President.
With 13 Years of experience, Mark heads up all National Advertising while also focusing the majority of his time dealing directly with clients.  Customer service is his number one priority.  In the 13 years of working here, Mark has learned all aspects of the business and can handle anything that is thrown his way.
A graduate of Conestoga High School (Berwyn, PA) and Randolph Macon College (Ashland, VA), Mark now resides in Wayne PA with his wife Mary Sue (Realtor) and four kids, Carter (10), twins Brooke and Blair (6), and Charlie (6 Months) (Yellow Lab and Office Assistant).
Email Mark mark@mansfieldads.com
Follow him on twitter @markamansfield 
NEW EMPLOYEE ALERT!!!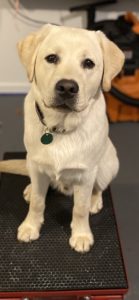 WJM is proud to announce their newest hire – Charlie Michael Mansfield!
Charlie is the official greeter here at Mansfield Advertising. Although he's from New York, he is an avid Philadelphia Eagles Fan and bleeds green like his co-workers.